Dec 26th, 2020 4:35am
--


COURSE CONTENT:


Thanks to the Covid-19 pandemic, schools were shut down for a large part of the year 2020. To ensure that students remain engaged, some schools turned to e-learning, and continued to run their academic program. On the Code NC Online school, students continued to learn from home - participating in classes and online assessment tests.

We have over 250 teachers registered on our platform from various schools in different parts of the country. As our coverage continues to expand, we keep improving on the features of our E-Learning platform.

The demand for teachers who are tech savvy has been on the rise since the pandemic began. Just being a teacher is no longer enough. To fit into the new era of e-learning, one must be proficient in the use of computers, and the internet.

You can now earn money on the Code NC Platform by referring teachers to us. We have added additional features that would allow our users to generate some extra income for themselves.

Here is how it works.

First, all money related transactions are available only to users who have upgraded their accounts to premium. So you would need to upgrade your account from BASIC to PREMIUM.




To do so,
1. Create an account (www.codenc.com/school/sign_up.php)
Log into www.codenc.com/school (Sign In As A Teacher)
2. Click UPGRADE beside Account Type




3. A premium account may go for N 500 for three months, or N 1,500 for one year. Choose the appropriate one and make a payment online.




After this payment has been made, your account page would bear a PREMIUM badge.




The extra features that are exclusively for premium users would be enabled.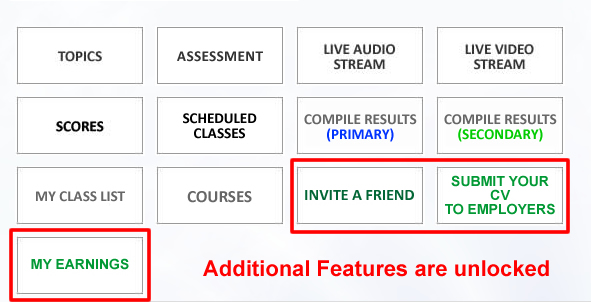 You can submit your CV so it would be made available to school owners (who may want to recruit teachers for online classes), or parents who may want to hire private lesson teachers for their kids.




You can invite users to the platform by typing their phone numbers, or by sharing the referral links




For every user you send to us, who signs up... we would pay you 10% of all / any fees received from him, continuously for as long as he is active on the platform. You have a dashboard where earnings are displayed.



You can withdraw the money to your bank account at anytime, when it gets to the minimum payout threshold of N 3,000

Click Here To See Questions On UPGRADE TO A PREMIUM ACCOUNT - EARN MONEY FROM REFERRALS, SUBMIT YOUR CV TO MORE EMPLOYERS
---
---